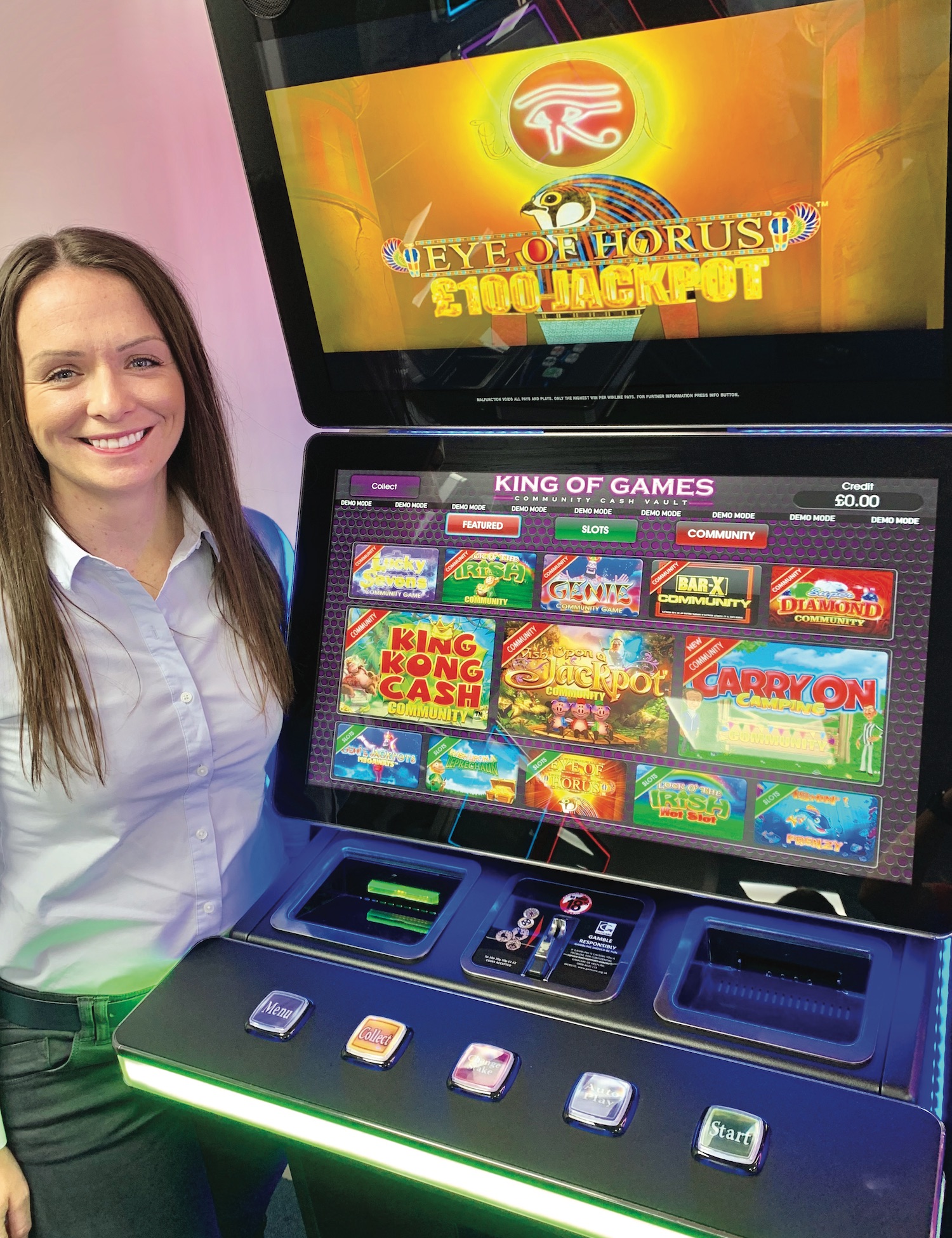 With an exciting year ahead, Blueprint prepares to enhance its focus on bingo centric content in the coming months putting the C in community, according to Nicola Wallbank.
Machine play is an integral part of the bingo experience. What trends are you seeing towards Cat B3,4 and C amongst the players and operators at present?
There are some important characteristics that define the bingo experience and which consequently impact product. Machine playing in Bingo Clubs is, by and large a secondary activity, bingo is the most social/community environment in which machines are played and the concentration of play takes place in the intervals, which represents a relatively short period of time. What this means for machines whether they are B3 or Category C is there has to be a very sharp focus on delivering high levels of entertainment and enjoyment over a short and intensive play period. The menu mix and the game selection also needs to reflect the environment which is characterised by the stand out features of community and entertainment. Bingo is a very different environment to AGC and gaming machines need to reflect those points of difference.

Are there any game or design developments/innovations that you are looking at to expand the market?
We are working hard on our Cat C offering in Bingo. Recent data has proven that the Aurora is performing very well with the B3 content across the Bingo sector so Cat C is our focus going forward, ensuring our offering is simple and clear for customers. Our community plays differently to that of our competitors and we need to ensure customers understand this. We are further developing our community with some successful themes, and differing mechanics which will further diversify our Cat C offering, keeping the players entertained. Since the purchase of Project in Feb 2019, we've started to integrate their games into our library and the first of the Cat C Project titles will be available shortly with renowned titles such as Project MegaBars. This is a key development for the sector as these titles offer an alternative game design which suits the bingo market very well. In 2020 Blueprint will have a sharp focus on games targeted at the bingo customer, working with our colleagues at Beacon Bingo, which is also part of the Gauselmann Group, to deliver the best bingo content in the best gaming cabinet. We will also be bringing the Project Mega Bars games to the bingo sector which fit the player profile extremely well. The team is working on further game development which we will bring to market next year.

Bingo players are pretty unique. How difficult – or easy – is it to cater for this audience?
We are approaching it as both an opportunity and a challenge. Bingo customers have a high visit frequency and they tend to be very loyal to their club. What this means is that machines have to engage with players over the long term and to avoid machine fatigue. In addition machine playing is a secondary activity for bingo customers which means the product has to make a strong first impression. Machine income is central to the commercial viability of most clubs which means the offering has to be spot on and as we've said on numerous occasions – there's no place for second best.

Changes in the B2 stake has had repercussions throughout the industry, not least for the Cat B3 sector. How has this impacted on your approach to design and gameplay for machines in the bingo sector?
While there has been a modest migration of former B2 players from LBOs to Motorway Service Areas and from AGCs to pubs, that has not been the case in relation to Bingo. Nothing has significantly changed post 1st April for us and we didn't expect it to.

Always under the Gambling Commission eye, are there any changes to technical standards that you would like discussed or implemented in regards to bingo machines for the future?
It's not really technical standards so much as changes in regulations. Allowing In-Venue Linked Progressives with a £500 jackpot shared across B3s is a small and simple change that would make a great difference to the bingo sector. It is widely used in other jurisdictions and the linked £500 prize would add to the entertainment value in an environment which is built around fun, participation and community. The winners would come from the community of machine players and would add to the excitement and enjoyment of the bingo experience. An element that we would like to select from bacta's Innovation Road Map is the creation of a new category B5 machine. Because the B5 would have a longer game cycle it would enable the industry to offer a broader range of entertainment such as simple bingo games, horse racing, Spot the Ball and more. By giving more freedom to games creators it would enable us to change the proposition, freshen it up and as a consequence appeal to and engage with a different demographic. The game style would be very different to that of an AWP slot and as a result would enable the industry to grow revenues by broadening the player base and not by just appealing to the current community of players.

How do you feel changes in consumer trends regarding payment options has, or will impact the bingo machines market?
The bingo sector has embraced TiTO which has made playing much easier and to a certain extent helped transform the sector. Moving forward, I see significant opportunities in cashless payment apps, particularly in relation to younger players who are accustomed to going out for an entire evening without spending cash. I'm not exactly sure when the regulator will wake up to the fact that so many consumers now leave home without cash. Surely we have to provide consumers with choice? These lifestyle changes have taken place in every other retail sector leaving Bingo clubs and AGCs as arguably the only environments dependent on cash.