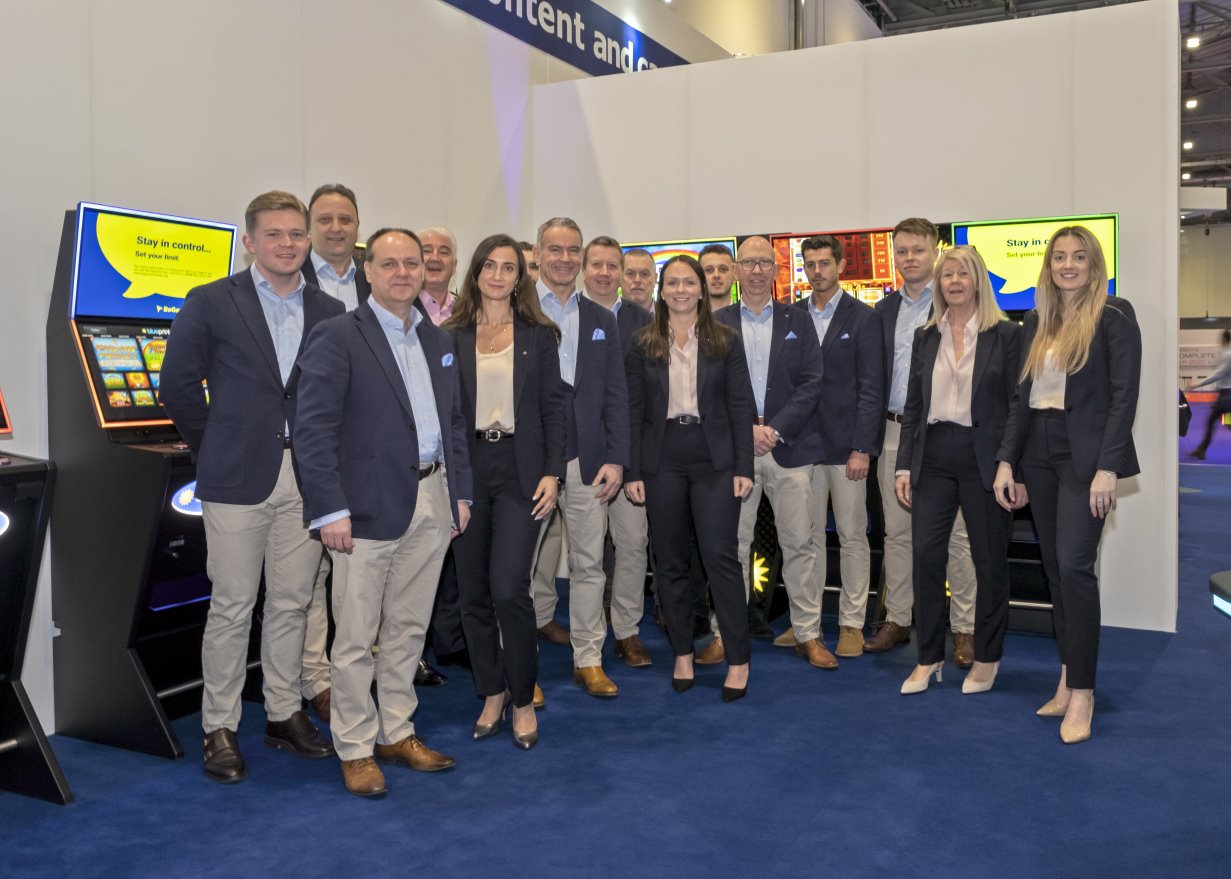 Blueprint Operations has completed a high-profile appearance at EAG having wowed the assembled buyers with a slick well-balanced range underpinned by unbeatable delivery times.
'Our outstanding product offering, the new buy direct structure introduced this year plus our ability to deliver within two working weeks of placing an order' is how Nicola Wallbank Head of Corporate Accounts at Blueprint Operations summarised the three key talking points arising from the brand's high-profile appearance at last week's EAG.
Speaking to Coinslot after the first edition of EAG for two years, Nicola said: "We've celebrated the return of the UK industry's leading business show with a fantastic line-up of cabinets and game content which has really engaged with the many buyers who I'm delighted to confirm were on our stand."
"The Alpha Trio cabinet which provides designers with more opportunities to present game concepts using its three 27" monitors was making its exhibition debut and for many of our visitors represented the gaming highlight of the entire show. The menu features three new Cat C games, comprising Luck O' The Irish Megaways, Fishin' Frenzy Megaways and Eye of Horus Megaways. Three progressive pots are displayed on the top monitor with each of the three games adding to the pot during game play."
She added: "Almost without exception one of the first questions from our customers was about delivery times. As a result of meticulous planning instigated by Nadia Volosina and Alan Claypole in conjunction with our colleagues at the production facility in Lubbecke, we have been able to secure the supply chain of components for our quartet of cabinets. Our customers look to Blueprint as a partner that they can rely on to be able to deliver product both for businesses wanting to invest in their gaming floor and for the growing number who are launching new businesses on the high street. The team has completed an amazing job which has resulted in Blueprint being the only games creator able to supply new high income earning product to customers within two working weeks."
Reflecting on the trends and feedback from buyers at EAG, she confirmed: "There's no doubt that we all benefit when the industry is able to have quality conversations about product. It's what we experienced on the national roadshow that we undertook prior to EAG and that we saw repeated at show. The Buy Direct programme, which provides customers with enhanced support and access to the new Blueprint Customer Portal, creates the opportunity to build relationships and create a dialogue which is what our customers with businesses of all sizes want and value. We are investing in the Blueprint Account Management Team that we have put together and EAG provided an opportunity for us to demonstrate the depth of the product knowledge that exists in the team."
Reflecting on broader industry trends she stated: "I think we had more conversations regarding the visitor experience than ever before. It's clear that operators are more passionate about the lay-out of their gaming floors and the need for cabinets to not only play their part in helping to generate revenue but to also add to the aesthetic. All of our cabinets have been designed to the highest specification and add a real sense of style, prestige and presence to high street gaming entertainment venues.
"EAG was a good positive event and probably the busiest sales show of my career. There was energy, positivity and as Adam Hodges commented in last week's Coinslot a willingness to invest in quality product. The buzz when the industry is able to meet face-to-face is infectious and it augurs extremely well for the rest of the year."
Blueprint's quartet of cabinets comprised the B3 Wave + and Auroramax +, the Alphamax S Category C and the high impact Alpha Trio, a three-screen cabinet, 15-game Cat C menu for high street gaming venues. The Wave+ and Auroramax+ are player-centric cabinets delivering the excitement and immersive qualities expected from out of home entertainment. Both feature large screens – the Wave+ has a 43" curved portrait screen with the Auroramax+ boasting two 32" HD screens. They have a new 15.6" video play deck to deliver a more interactive experience and the QXI6000 Quad core PC for enhanced graphical performance and smooth gameplay. With a cabinet design based on the site proven and highly popular Alphamax, the Alpha Trio features three 27" monitors which provide designers with more opportunities to present game concepts. The Alphamax S has a new monitor configuration which delivers an immersive player experience across two seamless monitors. The high play-appeal menu includes two new game launches in the form of Fishin' Frenzy Catch of the Day and Deal or No Deal – Lightning Spins.