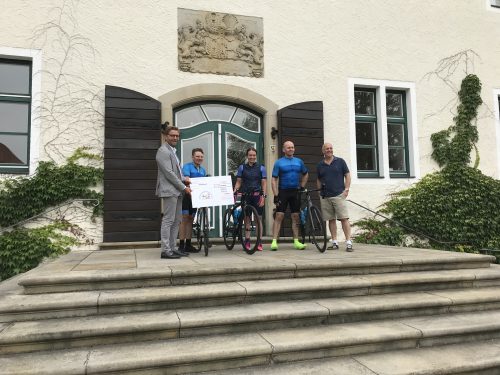 Team Blueprint; Nicola Wallbank, Key Account Manager, Andy Hall, Key Account Manager and Gavin Wright, Sales Manager, completed their epic 425-mile cycle from Newark in the UK to the Gauselmann Group's headquarters in Espelkamp, Germany in order to raise funds for the Children's Bereavement Centre in Newark.
The brave trio were backed up by Content Manager James Lowe acting as support crew. The team set off on June 11, finishing in Germany on Thursday June 14 and thus far have raised an incredible £16,413 out of their £20,000 target for the worthy cause.
The Children's Bereavement Centre helps children aged from 3 to 18 to deal with the grieving process brought on by the death or terminal illness of someone close. Kate Baxter, Director of the charity commented, "We would like to thank Team Blueprint for choosing us as their nominated charity and for their hard work and dedication in training for and completing this amazing challenge. The money raised, will help massively in the work we do in the local area to help children come to terms with the trauma of loss."
Nicola Wallbank said, "We have seen the work that the Centre does in the local area and it is a cause close to our hearts. The cycle ride was tough but it brought us all closer together as a team."
"Having completed various physical challenges over the years, many difficult and certainly all different, this sits in my favourites due to the reasons we were doing it for and the people who I was doing it with," added Gavin. "The determination and grit demonstrated by Nicola and Andy that kept me going when I felt lousy!"
"We would like to thank everyone who donated – even those who we met on the way," said Andy. "We also had great support from our colleagues on our departure from Newark and then the same from Gauselmann team on arriving to Espelkamp who gave us a wonderful welcome!"
The team's itinerary included an overnight ferry, and consisted of two days of cycling on UK soil, followed by the longest ride on Day 3, crossing the Netherlands to the German border with Day 4 seeing the team cycle almost 115 miles to complete the challenge.
The whole team would like to thank those who have already donated and for those who would like to pledge their support – please go to:
https://www.justgiving.com/fundraising/blueprintmachines.