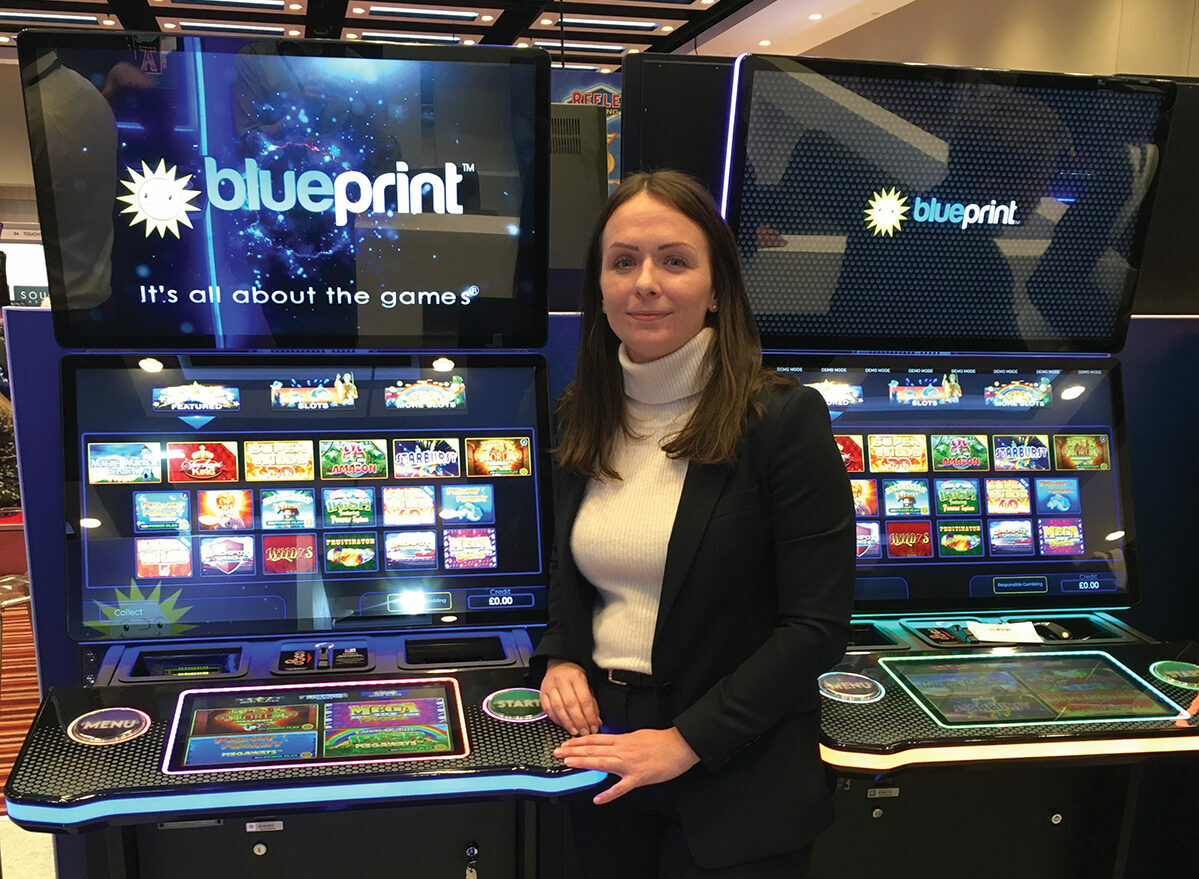 Nicola Wallbank, Director of Sales and Account Management at Blueprint Operations explains how EAG provides a perfect opportunity for the brand to engage with its growing customer base and get 2023 off to a flying start. Alongside an unswerving commitment to help operators maximise their machine income Blueprint will also be taking the opportunity to unveil a digital, three player version of Bullion Bars – one of the industry's most popular machines.
What are you hoping to get from January's EAG Expo
EAG gives us a great opportunity to reflect the brand through our stand, through our products and through our people. We place great emphasis on developing the Blueprint brand and significant exhibitions such as EAG provide us with a platform to connect and engage with both existing and new customers. On the basis that our customers are expert operators it makes huge sense to listen to every element of feedback they share with us. The discussions that we have with customers either on the stand or off the show floor are centred around product and the touchpoints of the various services that we provide in order to help maximise machine income. The team will be spending much of their time at ExCeL listening to what our customers have to say and feeding it back into the development programme. Obviously, it's nice to conclude sales agreements at trade events but in the main, exhibitions are about exploring future sales opportunities and connecting with customers. In many ways EAG sets the tone for the year ahead and I'm confident that visitors to the Blueprint stand will see the very best games and the best opportunity to maximise machine income in 2023.
Looking to the show, can you give us an idea of what visitors will be seeing on your stand this year?
We will be using EAG as a platform to launch important new products into the UK marketplace notably a three-player digital version of the iconic Bullion Bars. The game, which is in our Alpha Trio cabinet, has all of the practical advantages delivered by digital but every other element in terms of the way it plays, the colourways, branding and logo are identical to the analogue original. We've had a fantastic response and taken pre-launch orders from operators across AGC, Bingo and FEC who can't wait to provide their customers with the opportunity to experience one of the industry's most popular gaming products of all time in a digital format. Additional talking points will be our latest new Colossus Menu on Wave+ and Auroramax+ cabinets.
What are the 'must-have' reasons for customers looking to invest in your products at EAG?
At every exhibition that I have participated in either as a visitor or an exhibitor there's always been a central talking point and a product that's the talk of the show floor. There's a real admiration meets affection meets respect for Bullion Bars, a game which has taken on something of an iconic status. I genuinely believe that Bullion Bars will be the single biggest talking point of the show. Not only would I describe Bullion Bars as a must have reason to visit our stand, but also a key reason for visiting the show.
Can you talk us through some of your innovations and promotions that we should be looking out for at EAG?
Of course, the primary focus for any manufacturing brand is the delivery of consistently strong product and we continue to invest heavily in the content pipeline. But we want to go beyond just the delivery of outstanding games which also means investing in the customer journey including our service support related developments such as the product training that's available via our popular and simple to use Assist app. EAG provides us with an opportunity to outline to visitors how we are looking to build on the success of the previous 12-months and continue to deliver the same level of product excellence and customer support into 2023.
In terms of product and development, what's your focus for Q1 2023?
We work to a rolling six-month development plan so the discussions that we have with operators at EAG will be looking at the content road map to at least the early part of summer 2023. It's important that customers are confident in our pipeline of games and happy with the product-mix. We work closely with our colleagues at Blueprint Gaming, our online division, to identify what games are performing well, what's hot and what is likely to transfer across to our land-based sectors. Operators can be confident in the knowledge that we have unique access to a library of games which really are the 'best of the best.'