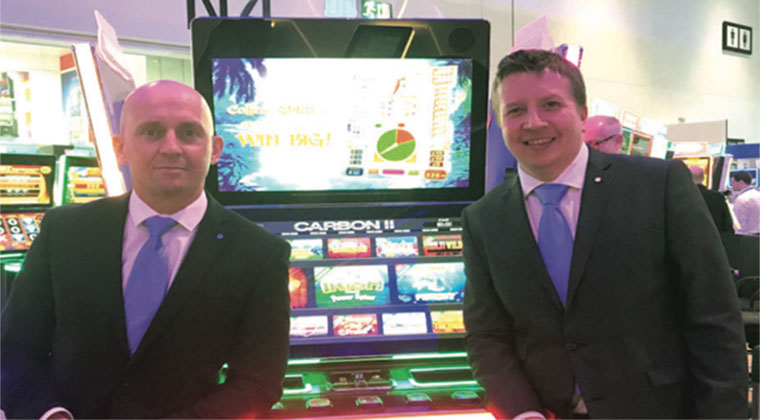 Ensuring that customers can find recognisable, quality game content when they visit the coast is an integral part of of Blueprint Operations' seaside strategy, comments Gavin Wright, sales manager.
Coinslot: How important is the coastal market for the wider industry?
Gavin Wright: "Blueprint Operations is the leading manufacturer of gaming machines in the UK. We see our coastal operators as being of significant importance, due to the fact that players can migrate across from inland AGCs to coastal ones, numerous times over the seasonal months. Therefore it is a great benefit for them to find the same standard of product in coastal arcades as they would find online, in the pub, at AGCs or in bingo halls.
"We see coastal arcades as being a valuable part of the industry landscape for our products and value our seaside customers,who often have a lifetime's experience of machine operation to bring to bear, providing us with valuable feedback and support."
CS: How important is the flexibility of the Blueprint portfolio?
GW: "Blueprint prides itself as being the market leader in the arcade and AGC sectors;through years of manufacturing and operational experience gained from the Gauselmann Group of companies.
"In the UK, we benefit particularly from our relationship with Praesepe, where 'hands-on' research and development is put into practice every day. Our unique position ensures that we deliver the very best in player experience through innovative cabinet design and 'best of breed' game content, as we understand what the player demands – not only from land-based gaming, but what they want to play online as well. The end result is a significant stronger cash box for our customers."
CS: Is the British seaside in the midst of a comeback?
GW: "Independent statistics have shown that we are taking more frequent 'shorter breaks' within the UK, rather than taking one longer two-week holiday abroad and I think this has given some of our seaside towns a real boost in visitor figures.
"We have also seen some significant investment in coastal resorts, with piers, promenades, arcades and family entertainment centres being brought up to date with visitors' expectations. Arcades and FECs these days are attractive, safe and clean and offer a wide range of amusement options for all ages, providing tourists with an exciting option for indoor activities if the weather is less than perfect."
CS: Have you seen any particular products finding success ahead of this summer?
GW: "Blueprint's Community Cash Vault has been particularly successful in coastal arcades as all the games in each cabinet can share the same community feature. No matter which game is being played – the opportunity is always there for the feature to be activated, which is very exciting for the player and also puts them more in control of what they want to play. This creates a great atmosphere which helps to boost the holiday mood of a seaside arcade.
"Blueprint's latest Community Cash Vault (CCV) Category C game-pack includes a number of extremely strong titles including Peter Pan and King Kong Cash plus Luck Of The Irish, Eye of Horus and Deal Or No Deal, planned for release in 2018 to complement the already growing popularity of the product."
CS: When developing products, do you tailor them to make the most of the seaside market?
GW: "Our products are designed to work well within most types of locations, however, we do find that our Community games such as Community Cash Vault, work particularly well in locations where people like to come together to play and this is certainly true of seaside arcades. We know, from our own research, that players are looking for new positive and exciting game experiences. Blueprint's Community Cash Vault and range of popular titles certainly ensure that the fun factor that is associated with the seaside is maintained."