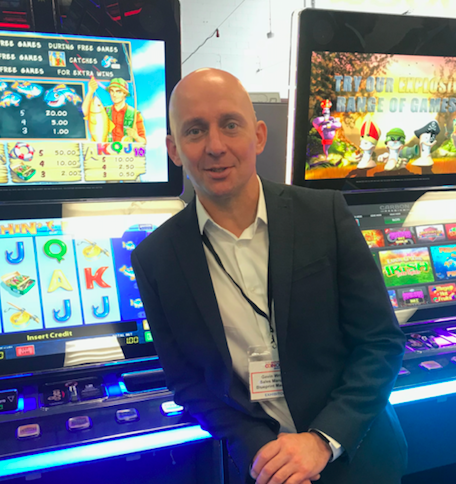 Gavin Wright, UK Sales Manager Blueprint Operations discusses the crossover of Cat C and B3 games and how it encourages players to try new titles.
For Blueprint players, Cat C allows enjoyment of the same games and titles as B3 but at a lower stake. For the pub sector, we have found that a mix of game styles on Cat C, including slot-style games is growing the player base. However, in locations where Cat C and B3 can be sited together, there is no depreciation of cashbox, even when the same game titles appear at different stake levels on both offers. In fact, we have seen cashboxes increase across the board. From an operator's perspective, therefore, as well as for players Cat C is about offering the choice of a lower stake for those who feel more comfortable with it.
Blueprint's Community Cash Vault continues to provide players with a unique experience.  The Multi-game menu can be offered in either the Aurora or Alphastar Cabinet for the AGC and Bingo markets. What makes it really special for players, is that the community games can trigger the Community Cash Vault. This consists of a Big Money reel feature spinning to award either a Cash Value or The Community Cash Vault! Once the Community Cash Vault is triggered, all eligible players will then be awarded a series of Cash Wins via the Big Money Reel. Community Cash Vault continues to prove itself as the market-leading community game in the UK, with King Kong Cash Community the number one Community title, showing an average weekly positive cash box return of over 40% following its introduction. The latest title to join the compendium will be Wish Upon a Jackpot Community, which is set to continue the success.
Consistent innovation may sound like a contradiction in terms, but it is possible to continue to stay ahead of the competition through continuous market-leading product development.  This is only possible if you plan well and research extensively both the markets you serve and the performance of your current products within that market.
Blueprint has the added advantage of being active in multiple sectors, online and land-based. This means that our players become familiar with our games and we publish our most successful titles across multiple channels to ensure that players can follow our brand wherever they may be.
From our perspective on Cat C, product with the same game titles as B3 ensures non-degradation of cashbox.  When it comes to premium content games such as Eye of Horus or Fishing Frenzy, bingo sites find that having the same titles on B3 and Category C game menus ensures revenues are as good if not better than before.
It is our belief that players like to get familiar with games on the lower stake of Cat C before moving on to B3 with more confidence.  So, Cat C in, as it stands now, works well for us, however we are always ready to adapt to meet changes in legislation if they become apparent.