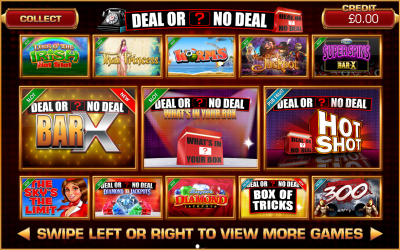 Deal Or No Deal hit the UK's TV screens in 2005 and ran for 11 years – six days a week. Its unprecedented success as the nation's favourite game show was replicated in the gambling sphere as well, with the licence lending itself to multiple channels in the online, LBO, AGC, bingo and of course pub retail sectors.
The iconic Deal or No Deal (DOND) licence was acquired by Blueprint last year offering boundless new opportunities for innovation utilising the 'hidden box' and banker's offer concepts. The Blueprint team has wasted no time in maximising the potential of the DOND licence for the Category C sector and has now released a 25-game menu, playing on the brand's popularity.
The menu kicks off with the following Deal or No Deal branded games: Deal or No Deal Diamond Jackpots; Deal or No Deal What's In Your Box; and Deal or No Deal Hot Shot (pub style fruit game).
Alphastar fullThe all-new DOND menu also offers Blueprint's pedigree of pub-content that delivers titles including Shrewlock Holmes, Juggling Jackpots and Immortal 300, plus more exciting ongoing Deal or No Deal releases such as DOND Bar X.
"Blueprint has set the bar with the market-leading King of Games Platinum and Titan Menus, which have been proven to grow the player base with improved return to player and significant cashbox gains, in fact our extensive testing on the DOND menu shows a remarkable and sustained income increase of around 30% on what were already high-earning Titan and Platinum machines. The DOND Menu builds on this success, while maximising the potential of the UK's favourite gaming licence. We don't need the Banker to tell us that this is a winning formula!" says Sales Manager Gavin Wright.
All of Blueprint's findings are backed up through its running of extensive machine trials over the past 6 months. "The Blueprint Content Team have been working extensively using data insights to uncover that the Blueprint Alpha Star DOND Brand offers a significant uplift in both VTP and NCB with good evidence to suggest that players are instantly drawn more so to the DOND themed games than seen before." says Content Manager James Lowe.
"The combination of slot style games and classic pub fruit machine style entertainment on this product appeals to a wide demographic of players. The DOND menu has performed extremely well on test and suggests new and exciting ways in which this market-leading brand can be presented," he adds.
Deal or No Deal on Blueprint's Alpha Star is available to order now for immediate delivery.