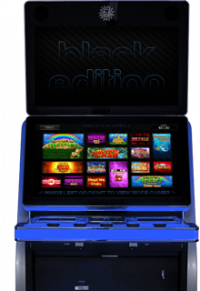 How have you perceived the performances of Cat B3 machines so far this year?
Blueprint Machines actively monitors all B3 Product in the UK market across various sectors.  This includes own and also our competitors' products. We collate and analyse machine performance data to assess trends and enable informed business decisions, such as game and menu creation, release dates, etc. B3 is becoming an increasingly strong part of our offer and our market share has increased year on year. We expect to see the demand for B3 continue to rise – especially in light of recent events.
What do you see as being the standout products in the market place at present, and are there any developments or innovations that you believe will be pushing the category forward?
Ours of course! Our B3 Carbon Premium is now the market leader without doubt. However, we have now created the next benchmark for B3 with our Black Edition that has been exclusively created for the Aurora Noir cabinet.  We have carried out extensive testing on the Black Edition, which shows a remarkable and sustained income increase of around 30% on what were already high-earning Titan and Platinum machines. So, once again Blueprint is taking its digital offer to a new level.
This boasts Blueprint's 'best of breed' Premium content, with games such as Luck of the Irish Free Spins, an evolution of the original players', Eye of Horus & Fishing Frenzy (from sister company Reel Time Games) as well as the newly released King Kong Cash and the iconic branding of Deal or No Deal – What's in your Box, with more exciting releases in the pipeline.
In terms of architecture, the Black Edition Menu has been designed to deliver an innovative and flexible approach to game delivery and player interaction with the platform. We have introduced a revolutionary button format which can show anything from 6 to 24 games on the one page using 4 different-sized icons. These icons are then positioned in such a way to drive player interest to certain games. For example, the largest buttons can be used to influence new game releases, as opposed to the usual favourites that sit on smaller buttons.  The Black Edition Menu is a natural progression from the seminal Carbon Premium Menu, however, the look and feel retains Blueprint's DNA to ensure we maintain the ongoing momentum with players.
From your perspective how important is the category both to operators and the wider market place?
B3 offers the highest maximum stake and jackpot outside casinos.  This is obviously fundamental to the player who enjoys play at these stake levels and also to the operator who relies on the cashbox to stay in business.
How important can is it for operators to regularly refresh their B3 offering, be it in units or content?
Our research has shown that regular content updates are imperative to stimulate the machine player, maintain interest and encourage regular participation. However, it is important to only release game content that is of significant value to meet the expectations of players.
At Blueprint, we are unique in the fact we have the ability to evaluate content that has performed well in the online environment and then transfer it to the land-based markets.
The benefits are then two-fold – players get to experience content that they are familiar with from playing online and they gain the necessary positive customer experience that keeps them coming back to the cabinet looking for new releases. This process is what creates Blueprint's brand loyalty.