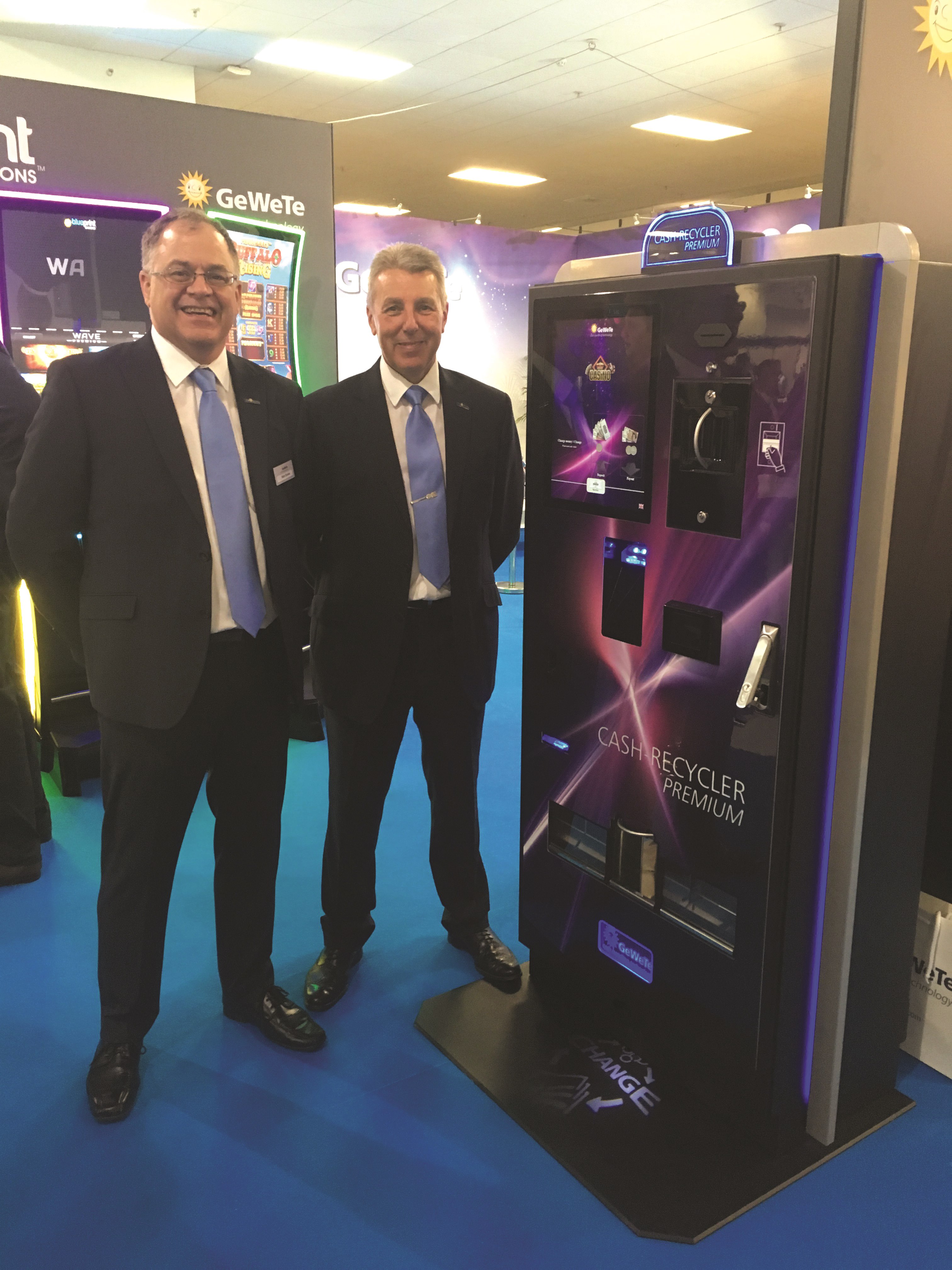 GeWeTe unveiled its Cash Recycler Premium to the UK market for the first time at ACOS 2019, with the cash-handling specialist's UK and Ireland sales manager Mark Edmundson stating the new model "has taken it to the next level."
With 26 years experience in the cash-handling industry and over 60,000 machines installed worldwide, GeWeTe could be excused for resting on its laurels, however, the firm is still proving itself a pioneer in the amusement and gaming sector.
The Gauselmann Group subsidiary took to ACOS this year to launch its Cash Recycler Premium for the first time in the UK market, showcasing the model's enhanced security features and bold new design ahead of nationwide release.
"It's the first time showing the Cash Recycler Premium here in the UK," said UK and Ireland sales manager Mark Edmundson. "We launched it in Germany just recently, and in Spain a couple of weeks ago, and people have been very impressed with the new look and image."
"Our existing models all look very good, but this has taken it to the next level. It has the looks, the features, and its security level is second to none."
The multi-functional Cash Recycler Premium, aimed at the AGC sector, features bulk coin, change machine, ticket redemption, membership card system, debit card acceptance, and a QR scanner, all encapsulated in a high security cabinet with customisable graphics.
The Cash Recycler Premium was one of eight cash-handling solutions on show form GeWeTe, including standalone debit card to ticket machines for TITO applications aimed at the pub sector, displayed alongside the firm's MARS operating system.
"The MARS system is GeWeTe's TITO and data capture system, running TITO and machine data capture – we've got it demonstrating ticket purchasing and promotional tickets," said Edmundson.
"Through the GeWeTe you can buy promotional ticket with a staff card, play it in the Blueprint machine in this case, and then do a cash match or promotion, or token cash match as well, which is a new feature."
The development of the MARS system reflects a wider expansion of TITO uptake across the UK industry, with GeWeTe tailoring its products to fit the needs of operators.
"TITO's expanding more, as a group," said Edmundson. "We've just done a big rollout with the Road Chef motorway service station, who are part of that, but generally the casino sector's been very busy."
"AGCs have also been very good, and more and more are gearing up for TITO applications, so we're seeing a big growth in the MARS system and our own GeWeTe products."
Looking forward, Edumdson predicted GeWeTe will aim for "more of the same" as it enters its 26th year, bringing innovation and reliability to each of its products, as well as offering "the full package" through its inclusion in the Gauselmann family.
"We've got about 30 machines in our range now, we haven't dropped any machines, we've just enhanced them and carried on, so the customers have more choice."
"We've got the build quality and reputation, we've been doing this for 26 years so we've got a good track record of reliability, we've still got machines out there from day one when we started."