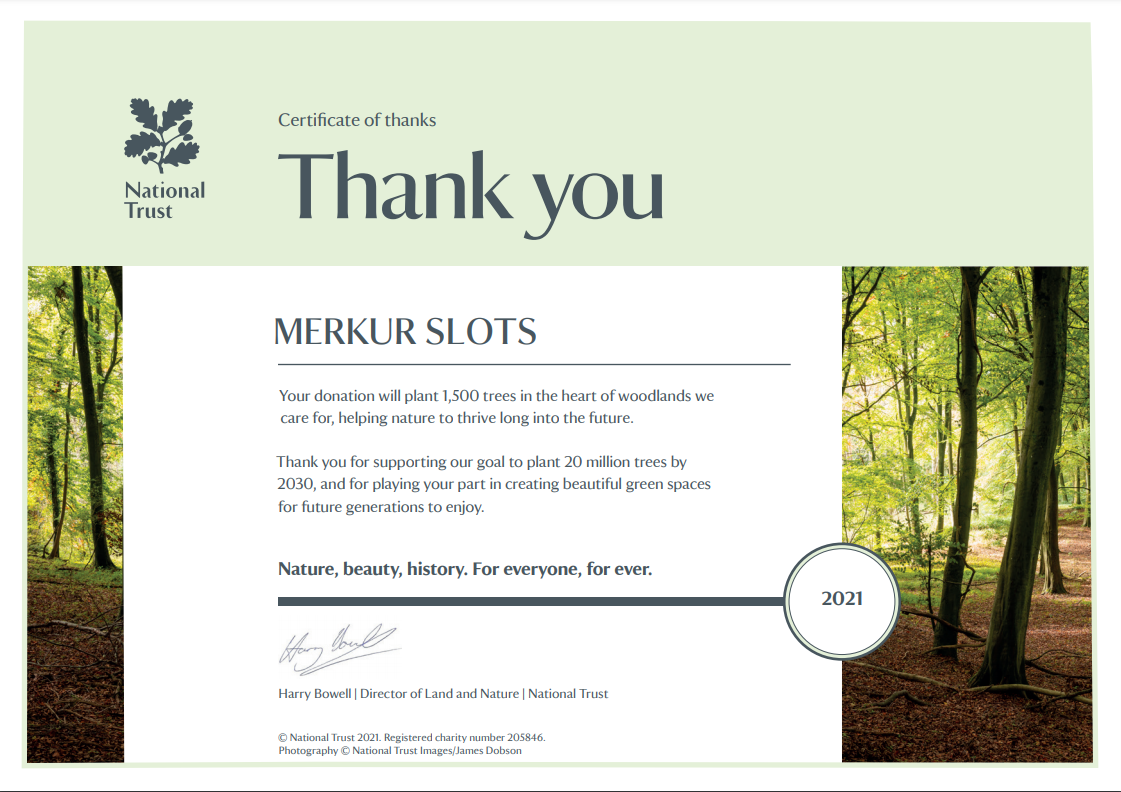 In the latest progressive initiative from MERKUR, the brand has broken new ground by supporting the National Trust's Woodland Appeal which will see it fund the planting of 1,500 trees at the same time as spreading awareness of the work of the Trust amongst staff, customers and the broader stakeholder community.
MERKUR has selected World Environment Day – a UN sponsored initiative which takes place each year on the 5th June, to officially launch a new ground-breaking link-up with the National Trust. The association has seen MERKUR support the National Trust's Woodland Appeal to help tackle the pressing issue of climate change.
Welcoming the MERKUR involvement, Mady Henderson of the National Trust said: "125 years ago we set out to open up the natural world so everyone could explore vibrant green spaces like parks, woodlands and countryside walks. The coronavirus crisis has made us all realise just how important this need is and that we cannot take nature for granted. Trees breathe life into our world, and it's vital we plan for the future of woodlands to tackle climate change.
"MERKUR's support of the National Trust's Woodland Appeal will enable the planting of 1,500 trees: trees which will provide sanctuary for wildlife, clean our air and bring balance to fragile landscapes.
"These trees will do so much; improve valuable habitats, increase biodiversity and make an impact on carbon emissions that contribute to climate change. Besides all of this, they will mean more tranquil moments for everyone."
She added: "Projects supported by the Woodland Appeal this year include creating mosaics of coastal woodland and wood pasture on the North Devon coast, expanding existing areas of woodland and building a natural corridor to give wildlife, such as pollinators, small mammals and bats, a better chance of survival."
"I'm looking forward to working together on this initiative and meeting in the coming months to hear what the initial response has been and together look at how we can build on that."
Sascha Blodau, General Manager, responsible for the MERKUR brand in the UK believes the association will work on a number of important and quite different levels. He explained: "Modern, progressive businesses such as MERKUR believe fundamentally that they have a duty and an obligation to support the environment and do what they can to tackle climate change. Supporting the work of the National Trust's Woodland Appeal and the planting of 1,500 trees for future generations to enjoy is part of our broader Social Responsibility programme which operates under the MERKUR Initiative umbrella.
He continued: "I should stress that our approach goes beyond just finance: I want to introduce the fantastic work undertaken by the National Trust to our 2,400 staff and their families as well as to our loyal customers based at our 180 entertainment venues situated throughout the country. I believe that the business has a unique opportunity to reach out to stakeholders and provide them with the links and information they might need if they feel they want to be a part of our relationship with the National Trust. The Woodland Appeal and helping the environment to thrive long into the future is an exciting prospect and one that I look forward to supporting in a professional as well as a private capacity."