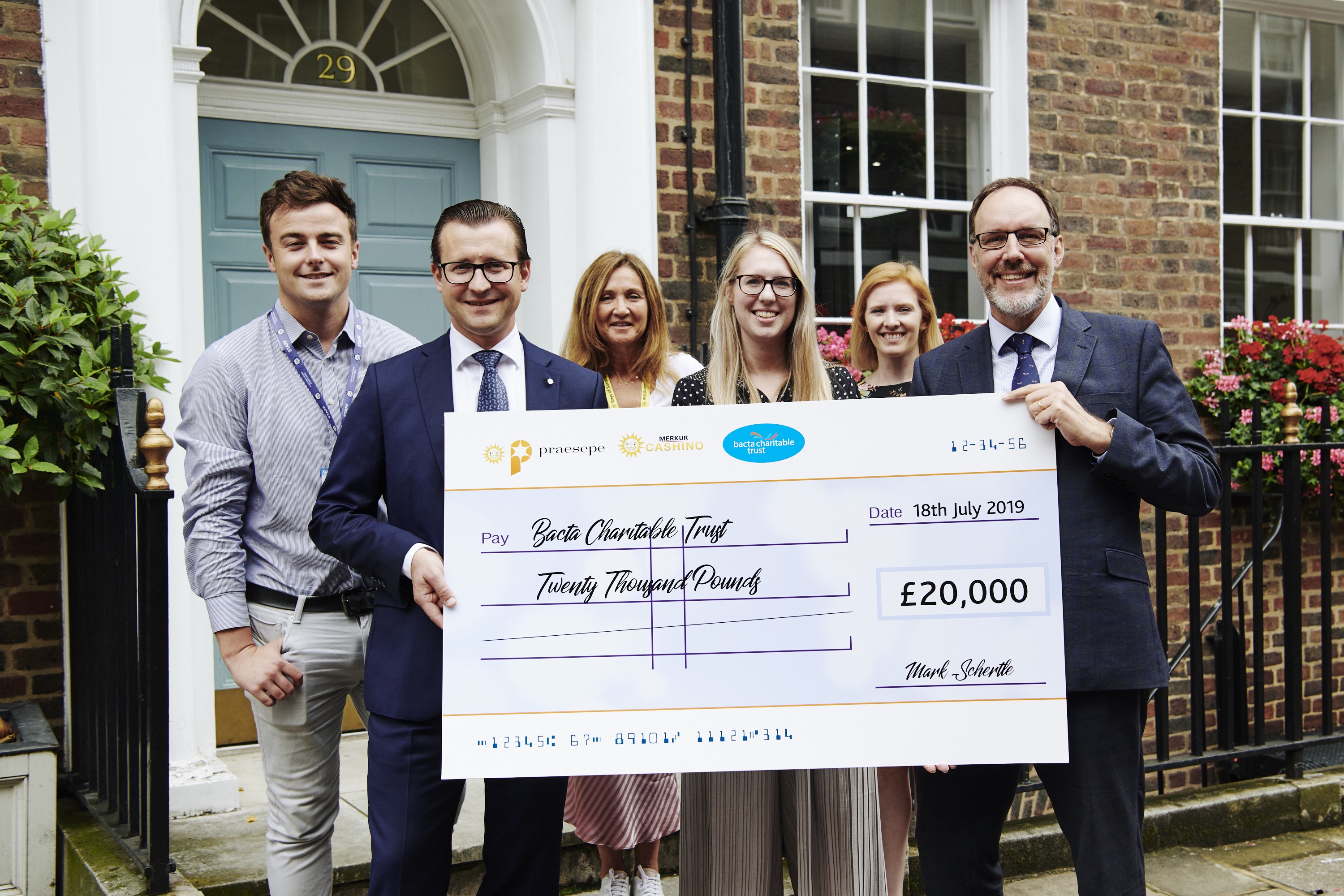 Praesepe, part of the Gauselmann Group whose famous UK-facing brands include Blueprint Gaming, Betcom Games and Regal Gaming and Leisure, has celebrated its exciting and dynamic relationship with the bacta Charitable Trust with a cheque presentation totalling £20,000. The five figure sum, presented by Praesepe COO, Mark Schertle was received by bacta Chief Executive John White alongside representatives from the Trust's four charity partners.
Mark Schertle has been delighted at how both staff and customers have responded to the organisation's new charity focus. He stated: "We are pleased to be supporting the business agenda set out by bacta and will continue to work with the association at all levels which includes getting fully behind the fantastically positive work it undertakes in the broader community via the bacta Charitable Trust. To have reached the £20,000 mark in a matter of months is a wonderful achievement and one that I am immensely proud of. Our teams working in venues located in all parts of the country are incredibly creative and committed to our charity project and the £20,000 has been raised using a wide range of ideas and initiatives many of which have involved our customers who are enthusiastically helping to fund the great work undertaken by the bacta supported charities."
Receiving the Merkur cheque, bacta Chief Executive John White commented: "This is a fantastic sum that will help drive the important community activities undertaken by our charity partners: Rays of Sunshine, Teenage Cancer Trust, Great Ormond Street Hospital and Macmillan/Royal Marsden. Since the Charitable Trust was launched, bacta members have raised more than £3.25 million for a wide range of good causes, in the process demonstrating the kindness and generosity which is part of the DNA of our industry. Merkur is continuing that mindset and I thank Mark and the Merkur extended family for all of its support and hard work in raising this magnificent sum in such a short period of time."
Merkur is part of the world famous Gauselmann Group which employs more than 12,500 people worldwide.