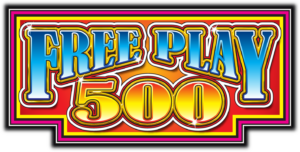 Free Play 500 is the classic FreePlay 500 B3 game from which the famous Mega Bars series of game grew.
Faithfully recreated on modern cabinets its incomparable game play is available again for both veterans and newcomers to enjoy.
With 10 win lines at both stakes up to 50 Free Plays or the jackpot £500 for a full screen of Bars can be won.
Lines – 10
Min/ Max Bet – £1.00 – £2.00
Game Features
£1 & £2.
Base Game
Free Play 500 is a 10 reel, 10 win line slot.
Free Spins
During normal play between 3 and 50 Free plays can be awarded by the symbols lining up on the pay lines, the more symbols on more win lines the greater the number of free plays.
The game then enters a separate set of games played for free where winning combinations from the free plays are added to the Play Bank, with a maximum value of the Jackpot.
When the Free Plays have completed the value in the Play Bank is transferred to the standard Win display.