Vega – JCM
Manufacturer Recommended Cleaning Interval:
At Least Once A Month
Opening Unit
1.       Simultaneously press in on the two (2) Upper Transport Unit Open/Close Latches located on each side of the Unit, and lift the Upper Transport Unit open [a in image below]
2.       Remove the Course Reversing Guide Cover by pressing in on the two (2) Guide Cover Release Buttons [b in image below] located on each side of the Cover.
Cleaning Procedure
To clean the VEGA Validation Section, use a soft dry or slightly damp with water lint-free Microfiber Cloth.
Do not use any alcohol, solvents, citrus based products or scouring agents that may cause damage to the Validation Section Sensors and/or Rollers.
Sensor and Roller Cleaning procedure
To clean the VEGA Unit's Sensors and Rollers, proceed as follows:
1.       Turn the power OFF on both VEGA Unit and Host Machine.
2.       Open the Upper Transport Unit.
3.       Clean the appropriate path and Lens of each Sensor.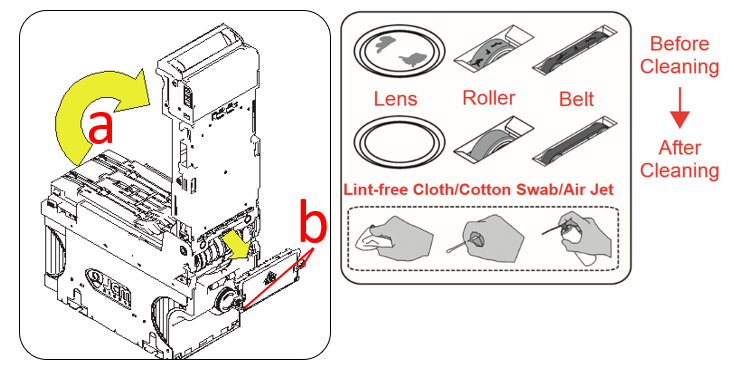 Sensor And Roller Locations
The image below illustrates the various VEGA Unit's sensor cleaning locations and the table below lists the VEGA sensor cleaning methods.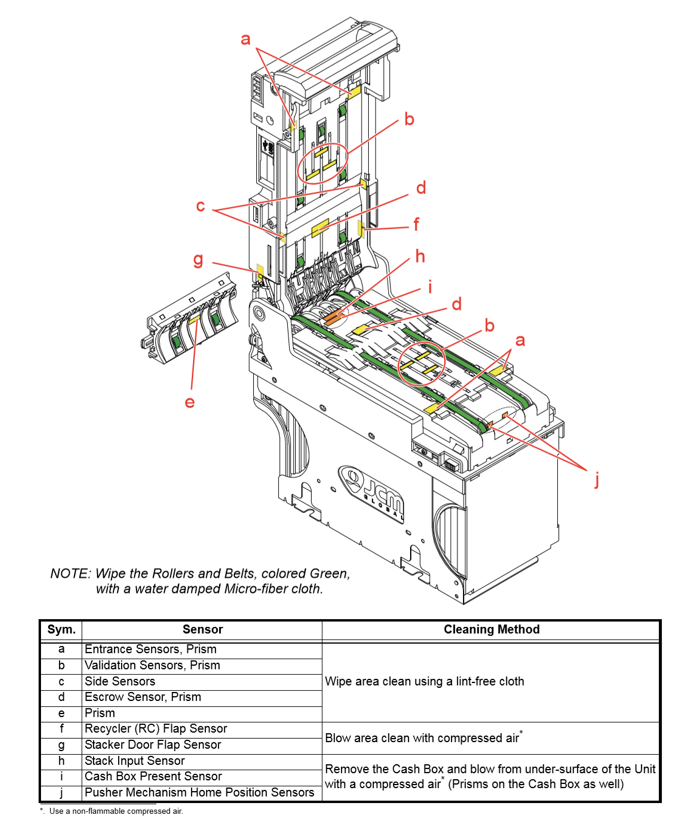 Copyright:
The information: text and graphics are all used with the respective owners' permissions. All intellectual properties including both text, images and logos belong to their respective copyright owners and should not be distributed without prior permissions.
The information provided in this guide cannot be reproduced or copied in any way for commercial purposes without the prior authorisation of all related copyright holders.