NV11/NV12 Acceptor – Innovative (ITL)
Manufacturer Recommended Cleaning Interval:
At Least Once A Month
NV12 Printer module – Innovative (ITL)
Manufacturer Recommended Cleaning Interval:
Once A Year
Innovative Technology Ltd recommends that you change the drive belts of the NV9USB+ every 6-12 months or as required, dependant on environmental factors. If dirt can be seen to be building up or if the belts themselves have had excessive use and are starting to wear, then this time period may not apply, and they would need to be swapped sooner. Please consult manufacturer specific manual for further information regarding belt changing instructions.
Acceptor Unit Cleaning Procedure
Turn off power to machine.
Slide the red catch to the left [1 in image below]
Lift up the top half of the unit [2 in image below]
Clean note path and sensors Use a dry linen cloth and/or compressed air, to ensure there is no dirt or debris. Paying attention to sensor locations and drive belts. [image b on the right]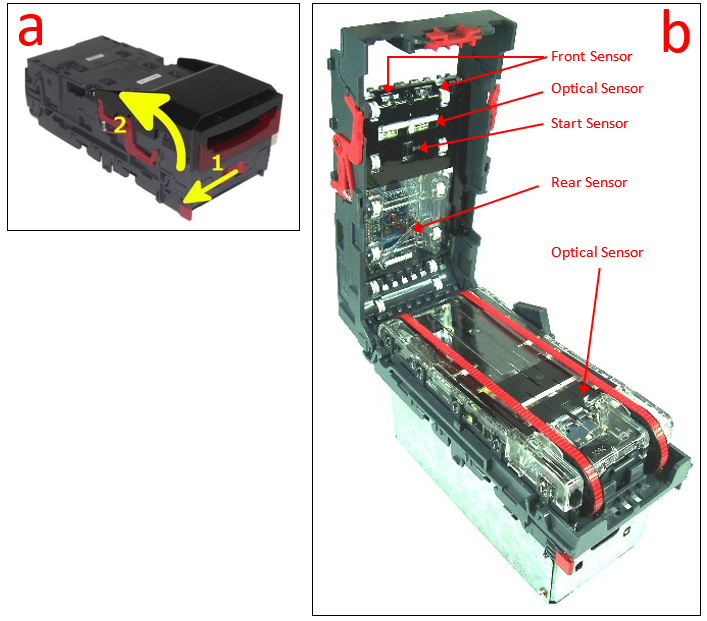 Do not clean the unit while powered; allow time for the printer to cool before proceeding to clean.
NV12 Printer Head Cleaning Procedure
Turn off power to machine.
Use the printer head release latches to remove the printer head from the NV9USB+ [image c below]
Press in both door latches to open the back panel door [image d below]. Use compressed air to clean plastics of paper debris
Release the Printer Platen by pushing the leaver towards the top panel of the NV12 until a click occurs. [image e below] This will release the printer platen which should then be removed. Use ethyl or isopropyl alcohol to clean the thermal printer.
TIP: use the compressed air before using the alcohol or after it has dried.
To reassemble push the platen back into position until it clicks. Then push the rear panel of the unit back into position. [image f below]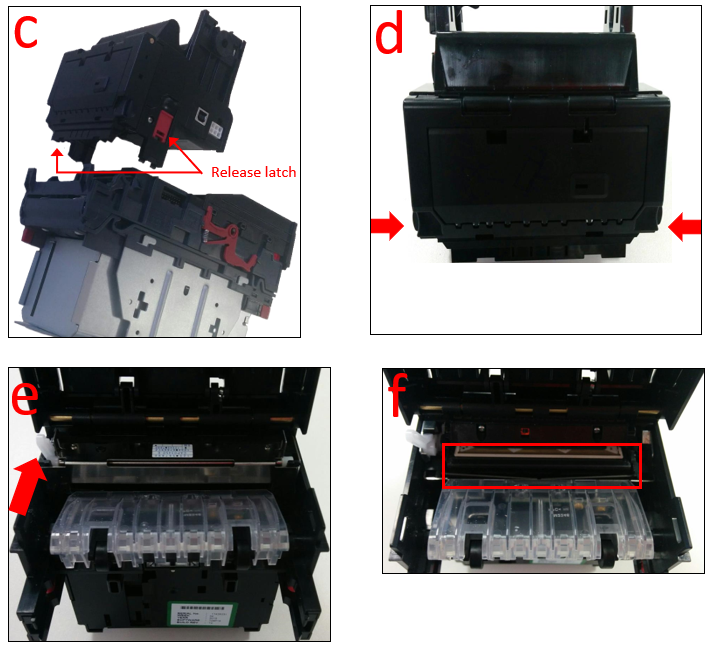 Copyright:
The information: text and graphics are all used with the respective owners' permissions. All intellectual properties including both text, images and logos belong to their respective copyright owners and should not be distributed without prior permissions.
The information provided in this guide cannot be reproduced or copied in any way for commercial purposes without the prior authorisation of all related copyright holders.