MD100/MD100+ – Gauselmann
Manufacturer Recommended Cleaning Interval:
Occasional/Check Every 6 Months
The special construction of the banknote checking device prevents soiling of the light barriers, but occasional cleaning may become necessary.
Do not use solvent-containing detergents such as alcohol, cleaning solvent, methylated spirits, turpentine, or circuit board cleaner for cleaning. Using these detergents can result in the destruction of the unit. Only use mild detergents.
It is possible to clean the banknote intake channel while it is assembled, but it is recommended to remove the acceptor head from the Merkur International Dispenser 100 PLUS.
Cleaning The Acceptor With The Cleaning Card
Switch on the machine.
Insert the cleaning card like a banknote.
The acceptor moves the card back and forth 3x.
Then the card is ejected again.
If possible, do not carry out this process several times in direct succession. Otherwise, the drive may overheat.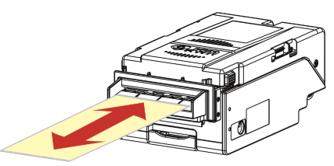 Cleaning The Stacker / Dispenser With The Cleaning Card
Switch off the device and remove the MD100 from the device.
Dismantle the dispenser/stacker.
Insert the cleaning card as shown here.
Move the cleaning card in/out, then hold the cleaning card and turn the drive wheels to clean the transport belt.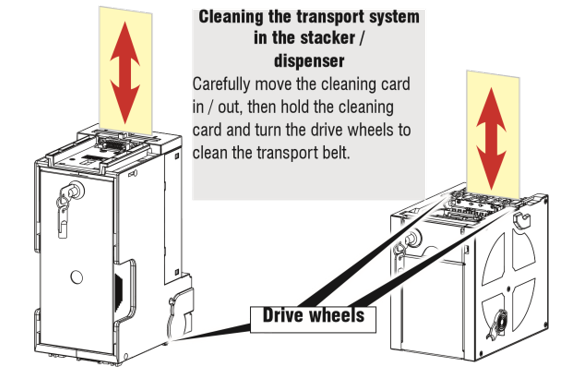 Removing The Acceptor Head
Turn off power to machine.
Unlock the lock [image a figure 1] (not fitted as standard in UK market).
Then push up the blue acceptor locking device on the front side. [image a figure 2]
Subsequently pull the acceptor head towards the front and out of the unit and remove by pulling up. [image a figure 3]
Removing The Dispenser
Turn off power to machine.
Open the lock [image a figure 4]
Pull the locking device [image a figure 5] towards the front of the unit with your middle finger.
At the same time use your thumb to push back on the stacker unit [image a figure 6]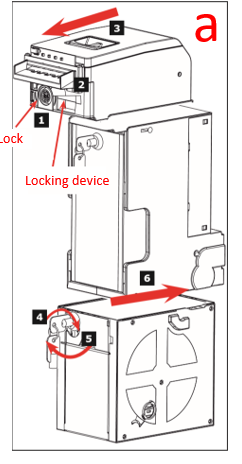 Cleaning Procedure
After removing the acceptor head, pull the blue locking device on top of the acceptor to open the lid.
The banknote guide is now accessible and can be carefully cleaned with a lint-free cloth. For cleaning, use a mild detergent.
Take special care with the light barriers.
The inside of the banknote guide can be cleaned with a folded cloth or cotton bud. Ensure that no liquids enter the unit interior and no liquid residue remains. Ensure that the surfaces are clean and dry and close the lid before re-fitting the acceptor head to the stacker.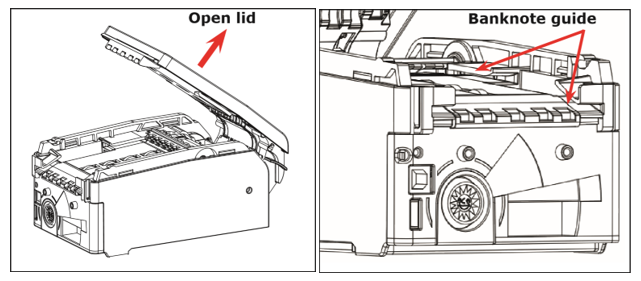 Copyright:
The information: text and graphics are all used with the respective owners' permissions. All intellectual properties including both text, images and logos belong to their respective copyright owners and should not be distributed without prior permissions.
The information provided in this guide cannot be reproduced or copied in any way for commercial purposes without the prior authorisation of all related copyright holders.