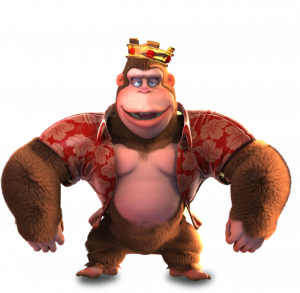 CAT C
King Kong Cash Link Community
Deep in a wild jungle Kong sleeps, keep playing the game to see what happens when he wakes up! What will Kong reward you with? With 5 exciting features and 5 win lines active on all stakes.
When Kong wakes up, be prepared, the action could get explosive! He can award any of 5 exciting features.
Lines – 5
Min/ Max Bet – £0.25 – £1.00
Game Features
Banana Cannon Wilds
Kong will blast the reels with the banana cannon which will fire wild symbols over the spinning reels. When the reels stop the wild symbols will improve your chances of winning. Watch out for re-spins, the wilds will be locked in place as the reels spin again.
King Kong Streak
Kong smashes the reels with a hammer, this will lock a random symbol in place. The reels spin and any symbols landing in view that match the locked symbol will become locked. This can happen several times until a no new locked symbols appear in view or all nine symbols are the same.
Golden Barrel
Kong throws a golden barrel onto the reels, which explodes and adds more golden barrels onto the reels. All barrels will then explode to reveal symbols, which are all identical. Wins are then awarded.
Barrel Blast
The screen shows 12 barrels, which can be Gold, Silver or Bronze. The barrels then open to reveal a cash prize, or nothing.
Cash Link Community
The Community feature is triggered through 'Pick a Monkey' bonus. When triggered, the feature can link up with other cabinets that are actively spinning a community game. The Cash Link Community feature has a coin symbol that contains cash values. The feature starts with 3 spins and can be reset each time a new coin symbol lands in view. The cash values on the coins have a chance of being upgraded if a full window of coins is awarded. When a full window is awarded, Kong will jump onto the reels, hammer the reels, upgrading cash values and if a pot is in view upgrading this also.
Mini, Minor, Major & Mega Pots
The pots can only be won from one of them landing in view within the Cash Link Community feature. Only 1 pots can be won, although this can be upgraded via a full window of coins.
Repeat chance is available after Jackpot win.