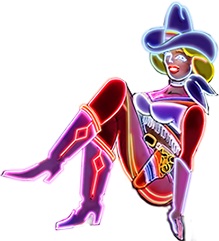 Are you ready to hit the bright lights of Sin City? Our Kings of Vegas slot might put you in the mood.
Packed with bonus features, this slot lets you hit the world-famous Strip to win big. Players can access not one, but six fantastic bonus games including free spins, special Golden Holds, and a classic big-money wheel.
Lines – 20
Min/ Max Bet – £0.25 – £2.00
Game Features
Modifiers
Watch out for the 4 modifiers, including the classic Neon Cow Girls and naturally, given we are in Vegas, the popping of champagne bottles.
Bonus Time
Trigger 3 or more bonus symbols to activate Bonus Time. This will trigger one of 6 possible bonus features.
Grand Slam Board: The reels will show cash values, advance arrows, and other features. Wherever the dapple stops, the highlighted prize will be awarded.
Vegas Deal Time: You will be shown 12 cases. Picking any of the cases will reveal a cash value, a feature or COLLECT.
Full House Free Spins: You will be awarded 5 Free Spins. Every spin a random amount of Mystery Symbols will be added to the reels. The Mystery Symbol will transform into another symbol and will award any new wins given.
Total Booster Free Spins: You will be awarded 10 Free Spins with multiplier enhancements enabled on reel 3. Each spin has a chance of a special x2 or x3 symbol landing on the middle reel causing all winnings in the total won box to be multiplied by x2 or x3.
Golden Hold Free Spins: You will be awarded 10 Free Spins with the Golden Hold enhancement active. Every win will trigger Golden Hold, causing any winning symbol to lock in place and respinning the none winning symbols away. The reels will keep respinning until the win is no longer improved.
Big Money Wheel: Spinning the wheel will make it land on one of several cash prizes. 2 cards will then appear either awarding another spin of the wheel or collecting and awarding any money won so far.