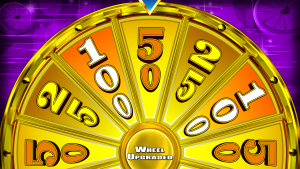 CAT C
Mega Bars Golden Wheel
Golden Wheel is based on the high performing B3 game Fortune Wheel, adjusting the pay profile to match the pub retail market and adding extra interest to the award of the wheel feature.
It has 10 paylines with the Jackpot of £100 at £1 stake awarded for a full window of Bar symbols. The Jackpot value reduces with the stake with £50 at 50p and £25 at 25p stake preserving a risk to reward ratio so the player can choose the level they wish to play at.
Lines – 10
Min/ Max Bet – £0.25 – £1.00
Game Features
Free Plays Feature
The feature from the popular line of Mega Bars games is presented here in Cat C format. During normal play between 3 and 50 free plays can be awarded by the symbols lining up on the paylines. The game then enters a separate set of games played for free where winning combinations from the free plays are added to the Play Bank, with a maximum value of the Jackpot. When the Free Plays have completed the value in the Play Bank is transferred to the standard Win display.
Wheel Feature
The Golden Wheel ramps up the excitement having a wheel on every reel. 3 wheel symbols anywhere awards a Bronze wheel, 4 symbols a Silver wheel, and all five the Golden Wheel. On being won attention switches to the top screen where the wheel is spun. With the bronze and silver wheel the spin can result in an award of upgrade, so that a bronze becomes silver, and the silver becomes gold and then respins. The money awards are expressed as a multiplier of the stake, with higher multipliers on the silver and the highest on the gold where the 100x can provide a Jackpot.