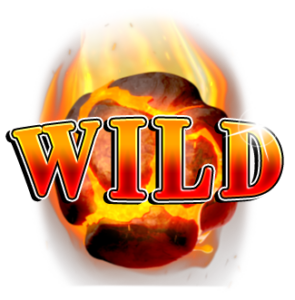 Get ready for an explosive payout with Pompay! A brand new 5 reel 20 win-line slot with the exciting new Lava Link feature
Lines – 10/20
Min/ Max Bet – £0.25 – £2.00
Game Features
25p, 50p, £1 & £2.
Base Game
Pompay is a 5 reel, 10/20 win line slot.
Eruption
The volcano can erupt randomly during any reel spin, when it erupts flaming rocks will fly out the top of the volcano with the chance of landing on the reels or falling past the reels. If 5 or more rocks land onto the reels then the Lava Link Feature will be awarded. If 4 or less rocks land onto the reels then they will all transform into wild symbols to give the chance of a reel win.
Lava Link Feature
The Lava Link Feature is triggered when 5 or more rocks land in view on the reels during any one spin. When the Lava Link Feature starts, the 5 or more rocks that triggered the feature will lock in place and the volcano will erupt again with a chance of landing more rocks on the reels. The volcano will keep erupting until no new rocks land on the reels or until all positions are taken. It is possible for a new rock to land on top of an existing rock, this will cause the existing rock to upgrade to the next tier with red being the highest tier. The tiers are yellow, orange and red. If all reel positions are taken by rocks, then a Mega Eruption is awarded. A Mega Eruption will make the volcano erupt one last time. This will cause all erupted rocks to land on existing reel positions and will upgrade these positions up to the next tier.
Cash Pots
Cash Pots may be awarded from the Lava Link feature. When a Cash Pot is awarded, the total cash displayed is given as a cash prize.
Power Play
During Power Play any win of £10 or more will award 'Pick a Fireball'. Power Play also increases the number of win lines from 10 up to 20.
Pick a Fireball
Pick a Fireball will show four icons over the reels where the player can pick one of the four to reveal a 'Collect' or 'Lava Link' icon. Revealing 'Lava Link' will award the Lava Link Feature and guarantee the initial reel win. Revealing 'Collect' will award the initial reel win.