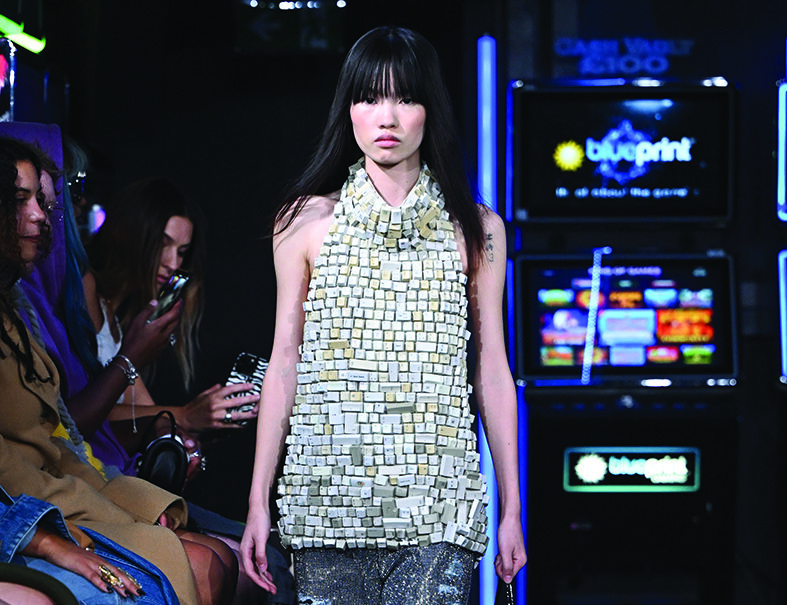 AGC operator Game Nation together with machine manufacturer Blueprint Operations have helped thrust the industry into the pages of Vogue thanks to an unlikely collaboration with the award-winning British fashion label JW Anderson.
The label which holds the distinction of being the first brand to win both the men's and women's categories in the awards made by the British Fashion Council in the same year, chose the Las Vegas Arcade in London's famous Wardour Street as the venue to unveil its Autumn collections during London Fashion Week.
Ready-to-wear halter-neck tops made out of old computer keys, charmeuse lingerie lace-trimmed slips, and draped T-shirt dresses were the order of the day as models presented the cutting-edge collections set against a bank of Blueprint's Alphastar cabinets. With Vogue magazine poetically describing the Soho venue as the place where 'people go for the thrill of gaming the random fates of fortune', Jonathan Anderson who founded the label in 2008 said the theme of his collection was 'realism' and a 'transient moment in time.'
Eric Doherty, Retail Development Director at Game Nation said: "Jonathan Anderson, whose shop is also on Wardour Street, is famous for being one of the most creative designers of his generation and we took the decision to close both our upstairs AGC and basement FEC to host what was one of the flagship events of London Fashion Week.
"Since launching in 2008 Jonathan Anderson has picked-up virtually every award going including Emerging Talent of the Year (2012), New Establishment Designer (2013), Menswear Designer (2014 and 2015) and British Designer (2017). It was fascinating watching the day's events unfold and I have to say the gaming floor and environment looked outstanding. We pride ourselves on offering customers the very best gaming experience available which means having the very best cabinets such as the Alphastar which complement the look and feel of the venue."
David Purvis, Managing Director of Blueprint Operations confirmed: "We recognise that our customers have significantly raised the bar in terms of the retail experience they deliver their customers and it's vital that we reflect that professionalism and eye for detail in the design of our cabinets – although I'm not sure that we would ever have anticipated seeing our cabinets in Vogue!
"Huge credit should go to Adam, Eric and the Game Nation team for participating in London Fashion Week and representing the industry so brilliantly."